Job Description
We are looking for a few superstar developers who can lead one of our exciting web application projects. If you have a superhuman brain and can solve complex problems then this job is for you. The project consists of manipulating APIs of some top-tier web applications, writing complex Regex functions, and deriving useful information from the raw data. If you believe that you are the top 1% developer of Nepal then you will make the ideal candidate for this job. We are expecting you to do everything from writing APIs ( in the language of your choice) to implementing the frontend javascript libraries like React.js and even automate the DevOps process.
Preferred Ideal Candidate will be as follows:
 Must have worked on few full-stack projects and can proudly present his/her portfolio
Must write clean, reusable code and follow the latest and greatest trends on the market.
Must be hardworking and dedicated.
Full Stack Javascript (Node + React) or Full Stack Python ( Django or DRF + React ) is preferred.
Must be willing to learn the proper ways of doing things and have extensive knowledge of the documentation process.
Must be result oriented and can perform under pressure.
What do we offer?
Salary: 1 Lakh +
Flexibility (working from home and flexible hours)
Lots of room for initiative.
Above Average Salary.
5 Working days.
Interactive sessions and training.
Festival & Relocation Allowance
Provident Fund
About Company
Codavatar is an Application (Web/Mobile) Development firm that provides best-in-class solutions on the Web, Mobility, Cloud, and more internet-based services.
How to apply
To apply for this position, send an email with a link to your latest portfolio to [email protected] with "Full Stack Developer" in the subject line. In the email, make sure to include your resume (in word or PDF preferred), cover letter, salary requirements, and any additional information you would feel relevant for this role.
Hiring Now
Work from Home / Remote Work
Job Title: Full Stack Developer
Industry: IT-Software / Software Services
Functional Area: IT Software – Application Programming.
No. of Vacancy: 4
Salary: 1 Lakh
Job Type: Full Time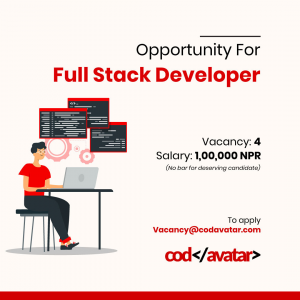 Job Features
| | |
| --- | --- |
| Job Category | IT Software – Application Programming |