Job Requirements
 Should have a minimum of 1.5+ years of professional work experience in SEO
Bachelor's degree in computer science, information technology, or a relevant field preferred.
Outstanding ability to think creatively, strategically, and identify and resolve problems
Ability to work within a team and independently
Experience with website optimization tools
Strong organizational, time management, and analytical skill
Job Duties and Responsibilities
Optimize web pages such as the homepage, landing pages, blog posts, product pages (on-page SEO) in terms of improving content quality, keyword optimization, and user experience to boost organic search rankings
Conduct regular technical SEO audits and work with the web development team to fix technical website issues (e.g. slow page load speeds, page crawl errors, and duplicate content) that may negatively impact organic search rankings
Manage SEO-related assets, tools/platforms including Google My Business, Google Search Console, Google Analytics, Google Keyword Planner, Ahrefs, Semrush, Majestic, Screaming Frog
Engage with other businesses (affiliates) over link-building opportunities, to bring in paid commission for driving customers to their websites
Measure key SEO metrics such as organic traffic, ranking positions, domain authority, conversion and conversion rates, engagement metrics such as dwell time and organic return visits, and provide recommendations for improvement
Developing link building strategies
Keeping updated on both white hat and black hat SEO strategies to avoid stay within search engine guidelines
Preparing detailed strategy reports
What do we offer?
Competitive Salary
Festival & Relocation Allowance
Provident Fund
Growth & Development Opportunities
Friendly and creative working environment
About Company
Codavatar is an Application (Web/Mobile) Development firm that provides best-in-class solutions on the Web, Mobility, Cloud, and more internet-based services.
How to apply
To apply for this position, send an email to [email protected] with "SEO Analyst" in the subject line. In the email, make sure to include your resume (in word or PDF preferred), cover letter, salary requirements, and any additional information you would feel relevant for this role.
Hiring Now
Work from Home / Remote Work
Job Title: SEO Analyst
Experience: 1.5 years+
Industry: IT-Software / Software Services
Functional Area: IT Software – Application Programming
Role Category: Programming and Design
No. of Vacancy: 3
Salary: Negotiable
Job Type: Full Time / Remote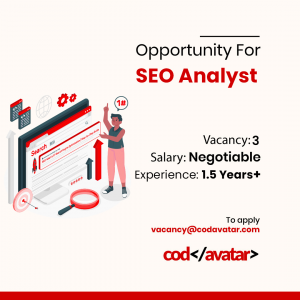 Job Features
| | |
| --- | --- |
| Job Category | IT Software – Application Programming |