Visual Design
for startups
Visual Design
At Codavatar, we offer a wide range of web and graphic design services– from UI/UX design to high-end animation production. We also provide other visual design services like Wireframes, Mockups, Branding, Logo designs, and many more. Our approach to visual design is to combine the best user experience while achieving your business goals.
our services
Visual design services that we provide


UI/UX
We help you bring your products to life with our intuitive & delightful UI/UX Design services customized to fit your business requirements.


Wireframes
We help enterprises navigate any and all aspects of wire-framing, creating experiences that deliver tangible business results.

Mockups
We have the best mockup design services, our website mockup design services are personalized according to our customers' needs.


Branding
We create your brand identity using our creative design. Our designs are a mixture of simplicity and sophistication.

Animation
Our animations reflect high production quality with the right mix of art, sound and animation design, to get your message out with wit and elegance.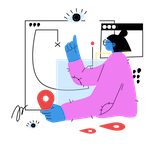 Video
Our video production services go above and beyond. Our company can come up with new creative ideas & bring new perspectives to the table.
our process
Here's our step-by-step Visual design process
01. Collect Information & Research
Before beginning anything, we collect information about our clients requirements and necessities. Market trends, competitors, designs, colours and textures, product or service evaluation are the few things we look into.
02. Brainstorm and Sketch Concepts
Now we pull all our ideas together. Starting by creating symbols or motifs and exploring and testing typefaces by keeping in mind the latest design trends. We make sure to jot all our ideas down.
03. Evolve and Iterate Your Concept
Sometimes the client may want us to mix and match from all concepts we have presented or come up with something entirely. It's part of our job to do design amendments. We communicate with our clients and make the changes.
04. Design Production & Completion
Once the design and development are completed the product is delivered to clients. By following these steps, we confirm the correct flow of our efforts towards a result that both we and our client will appreciate. .
Are you ready to bring your idea into action?
Faster. Scalable. Better.